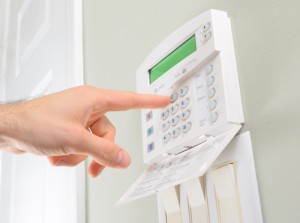 In the United States, a home is broken into once every 15-seconds. For many homes, there's very little security keeping burglars out and away from your valuables and your family. Taking a critical eye to your home from the outside can help you spot potential weak spots where a criminal may be able to break in. Julia Layton at HowStuffWorks offered some tips for making your home more secure. Here are some basics.
An alarm system in your home deters many burglars from even attempting to break-in, and scares off others that do try. When that system is monitored, authorities will even be dispatched as soon as the alarm sounds. At Perry Hood Properties, all of our homes are build pre-wired for security systems, which makes it easy to install them.
If you're planning to be away from your home for an extended period of time, be careful where you broadcast that. Don't post on social media that your home will be empty. Don't leave luggage in your driveway while you pack your car. Definitely don't leave any type of note on your door. While you're away, ask a neighbor to pick up mail and newspapers and leave lights on timers to make it harder to tell no one is home.
Be careful with a spare key
Leaving a spare key anywhere on your property isn't ideal, but it is sometimes necessary. If you must leave a key, be original in where you hide it. Common hiding places like under the doormat, on top of the door frame or in an obvious fake rock make the key easy to find for burglars. Ask a friend to try and find it after you hide it. If they can, then your hiding spot isn't secret enough. A better option is to leave a key with a neighbor, or to switch out traditional locks for a keypad.
The most common time for a break-in is during the day when most people are at work or in school. But, a burglar will happily break into a home at night if it appears no one is home. That actually makes it easier for them to get into the home without someone seeing them. To protect against this possibility, be sure the outside of your home is well lit. Add motion sensor activated lighting and lights on timers or light sensors so there's always lights on after dark even if you don't flip a switch.
Regardless of where you live, there's always a threat of a burglary if you don't take the necessary precautions.
As mentioned, Perry Hood Homes come pre-wired for security systems so it's easy to add one when you're ready. To browse through our currently available homes in Tulsa, Broken Arrow and Bixby, head to our catalog.