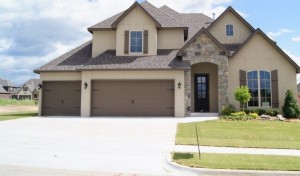 It may not be the first thing you notice when you look at a house, but the driveway does impact the overall look. It's easy to overlook a smooth, well-maintained concrete driveway, but one with unsightly cracks or holes detracts from the quality and appeal of the house. Concrete Network put together a handy guide for caring for your concrete driveway in order to keep it, and your home, looking beautiful. Here are a few care tips.
In Oklahoma, your driveway is subject to hard rains and hail, snow and ice and blistering sun at different points of the year. All of this extreme weather take its toll over time. Especially if dirt and debris are left without attention. Typically, it's a good idea to regularly hose off and clean your driveway to prevent cracks from developing. Resealing your driveway also helps to keep it clean and looking like new. Most contractors advise you reseal every 2 years, but your driveway may need it more often if it experiences more extreme weather or heavy traffic.
While a grease, gas or oil stain likely won't harm your driveway's structure, it does create unsightly blemishes that detract from your home's appeal. Having a freshly sealed driveway helps to keep spills from staining the concrete, but it's always a good idea to thoroughly clean them as soon as they happen. For tough stains that won't come up, consider a pressure washer combined with cleaning chemicals, but be cautious that some chemicals can be harmful to concrete.
One such chemical that actually attacks concrete is deicer. Oklahoma winters typically ice over driveways at least a few times each year and deicer is extremely helpful to make your driveway more passable. Unfortunately, it can also cause surface damage to the concrete. Rock salt is better for concrete, but is harmful to vehicles and your lawn. An alternative would be to put down sand for better traction, but be sure to wash your driveway when the ice clears to remove excess sand and dirt.
Concrete is a durable material, which is why it's so often used for driveways. It's not intended for any load, however. Heavier vehicles, like fully loaded moving trucks and construction equipment can cause cracks and other damage to the concrete. Even long-term storage of boats or RVs can end in damage to your driveway. Consider alternatives like street parking or off premises storage for large vehicles to prevent the need to replace your driveway.
At Perry Hood Properties, we build houses in the Tulsa, Bixby and Broken Arrow areas with high quality materials. We use these materials so our homes will stay beautiful for as long as you own the home. To browse through our currently available homes, please visit our Catalog page or call us at 918-250-2663.