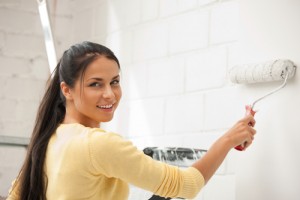 Whether you're ready to sell your home, in the market for a new home, or just interested in improving your existing home, there are a few ideas that can help increase value without breaking the bank. At Realtor.com, Craig Donofrio offers his advice for small touches that make a big difference. If you're looking for a new home, you'll want to look for these areas and if you're selling your home, you'll want to ensure you've taken care of these.
Of course the paint quality of a home will make an immediate impact on everyone who views it. Paint that's scratched or chipped or just worn will make your home look dated and worn out, even if the rest of it is in great condition. The color also makes a big impact. You might think that a home painted differently from the rest of the neighborhood would stand out more and be easier to sell, but the opposite is actually true. Most homebuyers want a home with neutral paint on the outside and inside. This makes it easier for them to imagine putting their own touches on it.
Most likely, every potential buyer is going to walk up to and into your front door. That first impression is extremely important. If the buyer looks at your door and thinks it's worn, dated, cheap or just uninviting, you're already fighting a losing battle. A new door is worth the money and makes a huge difference in making your entire home look better.
Again, we're concentrating on the outside of the home because curb appeal is extremely important. By comparison, very few people will see the inside of your home while hundreds will see it from the street every day. You might be surprised how much a well-maintained lawn, beautiful flower beds and a clean walkway impacts the offers on a home.
The lighting in your home can cast, literally, a bad light on it. Sometimes, a fix is simply to opt for light bulbs with a softer glow or to clean out light fixtures. In other cases, it might be worth the investment to install new fixtures or lighting. Particularly in the kitchen where under cabinet lighting can make a dim kitchen look more attractive.
Speaking of the kitchen, many buyers will start their opinion of a home with how the kitchen looks. If it's hopelessly outdated, many will immediately pass. Kitchen renovations can be extremely costly, but there are some simple ways to improve the look and feel. Switch out drawer pulls and cabinet knobs. Consider a fresh stain on cabinets and drawers and a fresh coat of paint on walls. You don't have to overhaul your counters or tear up the tile to make your kitchen more inviting.
At Perry Hood Properties, we build houses with high quality features that are attractive and hold their value. That means you'll not only be buying a comfortable, attractive home for you and your family, but you'll also have a high-quality home to sell when it's time.
Browse through our currently available home in Tulsa, Broken Arrow and Bixby or call us to start on a new home just for you.