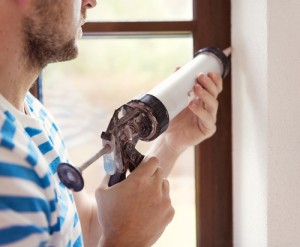 We all dread a serious issue developing in our home that needs costly repairs. Thankfully, there are some fast and cheap steps to take to minimize your risk of a serious problem developing. John Riha at HouseLogic put together a list of a few of these preventative steps. By spending a little money now, you may be able to avoid spending a lot of money later on foundation repairs or new HVAC units.
A regular walk around your home with a critical eye can help you spot developing problems. Start by checking around the foundation for cracks. Spotting some doesn't necessarily mean your foundation needs to be repaired, but it's a good idea to mark them and check back to make sure they're not growing or moving. It's also a good time to check the soil around the foundation. It should gradually slope away from the foundation to help funnel water away. Adding new top soil is a cheap fix that can save you thousands in foundation repair later. Similarly, check that your downspouts are far enough from the foundation. About 5-feet is a good rule of thumb and extensions for your downspouts are both cheap and easy to install.
Water and moisture can wreak havoc on all parts of your home. Keeping this moisture out helps to prevent rot and mold. Properly sealing areas around windows and doors also helps make your home more energy efficient and easier to heat and cool. Expect to use a few small tubes of caulk each year on your home as it ages and new problem areas pop up. By staying on top of them, you'll be able to avoid much costlier repairs while keeping your home in top condition.
Your house looks much better if you take the time to wash the siding annually. This also helps to maintain it and prevents cracks and holes from forming. After you clean, look around for any small areas that could use touch-ups. This would include paint that has chipped away or faded, holes in stucco or missing mortar. Like using caulk around your home, making these small repairs helps to keep moisture from getting into these weak spots and causing much larger scale damage.
If your furnace or air conditioner breaks down, you're looking at expensive repairs or replacements and an uncomfortable few days while you wait for the repairs to be done. Much of that can be avoided, however, with some minor upkeep. Your first priority should be to change filters regularly. Every three to six months, filters will be dirty enough to change and start to restrict air flow in your home. When they're dirty, it also causes more dust and grime to be sucked into your air conditioner or furnace, which increases the likelihood of a break down. It's also a good idea to have a professional give a check-up to your units before you begin using them each season. They'll be able to tell when a component is about to fail and replace it before it does and damages other parts.
These are only a few of the areas where small repairs help prolong the life of your home and prevent big problems.
At Perry Hood Homes, we build high quality houses throughout Tulsa, Broken Arrow and Bixby. If you're ready for a new home, give us a call or browse through our currently available homes.