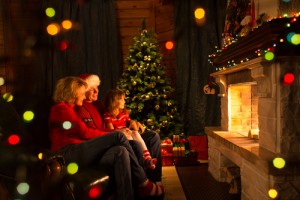 We've already posted about preventing freezing pipes and home improvement chores to take before the weather gets cold. There's plenty more to do around your home to help prepare you for winter, however. Here, we'll share some quick tips for keeping your home tidy, organized and comfortable throughout the holiday season. These are all easy and fast tasks that anyone can do, but that also make a big difference.
Let's start with a staple of the holiday season. Most of us will be hanging lights and other decorations this year, which starts with getting them out of storage. If you find your lights are in a tangled mess, your first task will be to untangle them, but then you can take some extra time to learn how to properly store them so that next year, they'll be untangled and ready to hang. After you hang your decorations, it's also a good idea to walk around with a critical eye. You aren't looking for anything hanging crooked, however. You'll be looking for anything that might pose a fire hazard. Be sure to move fabrics away from candles, and don't let hanging lights that will get hot rest against anything flammable.
It's a good idea to periodically check your home's fire extinguishers. The holiday season is a perfect time to check them since you'll likely have a number of fire risks around your home. First, ensure you have an extinguisher in the kitchen, and another near your fireplace. Next, be sure they are both charged and ready should you need them. Finally, be sure that every member of your family knows where the fire extinguishers are and how to use them. This way, if a fire does break out, anyone can quickly put it out.
Most of us only think about using ceiling fans during the hot summer months, but they can be useful in the winter too. Your ceiling fans should have a switch that reverses the way they turn. Instead of circulating cool air throughout the room, they'll be sucking warm air away from the ceiling and evenly distributing it. Try it and you'll find what a difference it makes. Additionally, you can add extra rugs and floor coverings in the winter to keep rooms warmer.
There are actually a couple of tasks you should get to when ensuring your family has clean air throughout your home. First, replace your air filters. Most air filters need to be replaced at least three or four times per year, and it may be more if you have pets. If you haven't replaced the filters you used with your air conditioner all summer, you're well overdue. Replace theses and not only will air quality be better, but your heating system will be more efficient. And, if you're running your heater often, the air in your home is likely to be more dry. To combat this, you can use humidifiers, but be sure to clean them periodically. A humidifier is a great way to keep your home more comfortable, but you don't want it putting new contaminants and toxins into the air.
The holidays may see a number of house guests for family get togethers and parties. That usually means your carpets will be in need of a good cleaning once the holidays are over. Take the time now to schedule a professional carpet cleaning for January, or look into investing in your own equipment. Those spills and stains left from your holiday parties will need attention in 2016.
If you're in the market for a new home for the new year, contact us at Perry Hood Properties. We build high quality homes in Tulsa, Broken Arrow and Bixby and even have a number of already completed homes that are move-in ready.