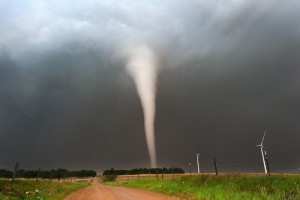 Adding a storm shelter to your home is a great way to stay safe during tornado season. There are a few options to consider before purchasing one, however. Here are a few things to consider to ensure that you choose the right shelter or safe room for your home and family.
The first option is to decide whether you'd like your shelter to be above ground or below ground. While below ground shelters and storm cellars offer great protection from winds and debris, they're not advisable for those that live in flood-prone areas and there's a risk of debris falling on top of them and trapping those inside. These below ground, or in-ground options could also be difficult to access for individuals with physical handicaps or the elderly. Above ground shelters and safe rooms also provide protection and are firmly anchored to the concrete slab and can typically withstand winds and force greater than an EF-5 tornado.
If you decide on an above ground safe room, there are a few different materials to choose from. First, compare concrete constructed shelters to steel fabrication. While both will be tested to keep you safe during a tornado, concrete shelters crack more easily while steel safe rooms will flex. This means that a steel shelter will often be able to be used through multiple storms, while a concrete shelter will usually need repairs after withstanding high winds and force. There's an additional option to purchase a safe room reinforced with Kevlar. While these may offer slightly more protection from extremely high powered storms, they also come at a significantly higher price. Kevlar also only lasts for 15 years.
The type of slab your home was built on could help you make some of these decisions for you. For homes built on post tension slabs, like those constructed by Perry Hood Properties throughout Tulsa, Bixby and Broken Arrow, your in-ground shelter options are more limited. The advantage of post tension slabs, however, is that they are more resistant to cracking, better for construction on soft or expansive soils and provide a sturdier, more reliable base for your home. Above ground shelters and safe rooms are anchored to your slab in order to keep them in place, even under the most extreme conditions.
An added advantage to many above ground safe rooms is that they can be transported to your new home when you move.
If you're looking for a new home in the Tulsa, Bixby or Broken Arrow areas, call us at Perry Hood Properties or look through our currently available homes online.