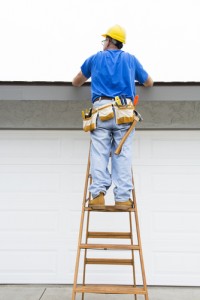 Winter and spring storms can cause a great deal of damage to roofs. It's important to regularly check your roof in order to fix damage as soon as possible and prevent it from causing leaks and other problems. Angie's List has a helpful list of preventative maintenance tips for your roof.
Damage to your roof's shingles is the first sign that the roof is in need of repairs. When shingles fall off due to high winds and storms, it leaves the remaining shingles more likely to be damaged or removed also. Missing shingles also leave the roof vulnerable. Even minor damage like tears or missing granules can, over time, cause the underlayment to deteriorate. It's important to actually go on your roof once or twice a year, especially after severe storms, to check for damage.
Water leaking into your home can cause mold, damage to your walls and ceilings and to your home's structure. Damage to your roof caused by storms or tree limbs can lead to leaks. You may not even be aware of these problems until they've already done damage to your home like leaving yellow or brown stains on walls or ceilings. To check for leaks, go into your attic and look for signs of water. It may be helpful to wait for the next rainstorm and then look for any water being allowed through.
Soffits and Fascia Boards
The top of your roof isn't the only part that's vulnerable. The soffit, which refers to the board under the eave that connects the roof the siding, and the fascia board, which runs along the roof line and connects to the rafters or trusses, both need to be carefully monitored. Clogged gutters can be a serious problem for both soffits and fascia boards. Damage is typically fairly obvious, however. Look for cracks or holes or other signs of stress and replace and patch these immediately.
The roof is an important part of your home that is commonly overlooked or forgotten about. By regularly checking on the health of your roof and its components, you'll avoid major problems like leaks and severe damage.
If you're in the market for a new home, Perry Hood Property is here to help. Browse through our online catalog or contact us about building a home specifically for you and your family.