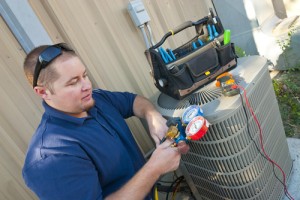 You may not need your air conditioner now, but that makes it a great time to for maintenance and some routine cleaning. You certainly don't want to wait until the first hot day of the year to find out that your air conditioner isn't working. At Small Notebook, there's a helpful list of ways you can get your air conditioner ready for warmer weather and keep it running throughout the summer. Here are the vital tips every homeowner needs to know.
Most of us know that air filters need to be changed regularly. Doing so regularly improves the quality of your air and prolongs the life of your air conditioner. Think of it like changing the oil in your car. Typically, changing it every 3 months during use of your A/C is recommended, but you'll want to change it more often if you have severe allergies. There are plenty of options in filters, but don't skimp and buy the cheapest available. Pleated synthetic filters don't cost much more, but do a better job for longer.
How efficient your air conditioning unit is running not only dictates how cool your home stays, but also how high your electricity bill is likely to be. Before the peak of summer, measure efficiency by comparing the temperature of air coming out of the vents with the air going into the return vent. There should be about a 15-degree difference. If it's more, it could signal it's time to change your filters. If the difference is less, you'll need some maintenance on your A/C like more Freon.
The ducts in your home are responsible for carrying air to the vents in each room. If they're not properly maintained, an efficient unit is unable to distribute cool air properly. Go to your attic to see if there are any leaks that allow cool air to escape before it reaches the vents. If so, you can either replace the duct, or try to patch it with duct tape. It's also a good idea to invest in insulation to wrap around the ducts so that the heat from the attic doesn't affect the cool air. Finally, keep ducts free of debris and dust by protecting them during any home renovation project. Cover the return air vents in your home with air filters to keep all that dust out.
The unit outside of your home, also known as the condenser, needs to be clean in order to have sufficient airflow. When it's dirty, it either stops working, or must work harder, which uses more energy. One cleaning per year is usually plenty, but you should clean the condenser when it is visibly dirty. To do so, turn off the power, then rinse with a hose. Don't use much pressure because some parts of the unit can bend easily. Your goal is to remove dirt and debris from between the small openings, or fins, on the condenser.
Keeping your air conditioner running is vital during the sweltering Oklahoma summers. These tips will help you keep energy costs low and regular maintenance will keep you from paying big repair bills.
At Perry Hood Properties, we want our homeowners to keep their homes looking beautiful for years after they buy them. We use high quality products to help homes look like new. Browse through our available homes and call us today!