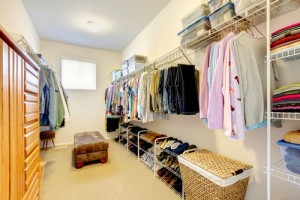 Your home's closets are only as good as their organization. Even a large, spacious bedroom closet loses its luster when it's hard to find and access items. Recently, Forbes published a list of organizational tips for how to improve your closets and make them easier to use every day. Here are a few of our favorite tips.
The first step to improving the organization of your closet is to carefully critique everything in it. If you've lived in your home for years already, that probably means completely emptying the closet. If you're a new home owner, this is an ideal time to assess all of your clothes, shoes and other items before putting them into the closet. Once you know exactly how many items are going back in, you can make more intelligent choices about how much storage you need to add.
It may seem like your closet is at its limit but there's almost always some empty space on walls or the door that you can utilize. Bars and hooks can greatly increase your storage capability without putting often used items out of reach.
Not only is does there seem to be never enough storage in a closet, there's also never enough light. Most closets have one solitary lightbulb on the ceiling, but that's hardly enough to effectively light the whole closet, especially when it's full. Adding shelf lighting doesn't have to be a big, expensive project, however. Consider battery-operated LED lights that can be stuck or screwed into shelves. You can even invest in motion activated LED lights that only come on when you're looking for something near them.
If you're short, either make all your closet storage lower, or add a step stool or ladder to your closet so you can reach everything you're storing. There are also options like clothes racks that pull down when you need them so you can easily reach clothes on the top rack.
It's tempting to use the wire hangers from the dry cleaner that all of us have accumulated over the years, but those hangers are tough on clothes. Your hangers can be wood, plastic or metal, but they should be able to easily hold the weight of your clothes without stretching and bending them. They also add the benefit of being able to group your clothes easier. For example, use wooden hangers for dress shirts in one area of your closet and metal hangers for pants in another area.
At Perry Hood Properties, we build high quality homes in the Tulsa, Bixby and Broken Arrow areas and want to help our buyers enjoy those homes for years to come. To browse through our currently available homes, visit our Catalog.