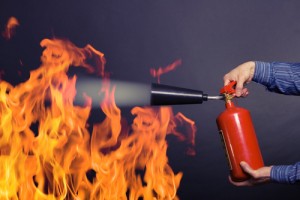 With Independence Day upon us, many are preparing for fireworks and backyard BBQs. While both are great ways to celebrate America's freedom, they also present significant fire hazards. It's important to take the necessary precautions to keep your family and your home safe. Of course, there are plenty of other fire dangers in and around your home throughout the year. Here are a few of those.
More than 40-percent of house fires start in the kitchen and it's easy to see why. A number of combustible materials are likely sitting on your counter near your stove top. For example, paper towels and pot holders are often the cause of fires. The first step is to keep a 3-foot buffer zone around your stove. The second is to simply monitor any pot or pan on a burner or in the oven. Trying to multi-task leads to forgetting about your cooking, which can lead to a flame getting out of control. It's also a good idea to keep a charged fire extinguisher in or near your kitchen at all times.
Your dryer poses a significant risk to your home. It's an appliance that generates a great deal of heat and produces an extremely flammable by-product in dryer lint. While you may regularly empty the lint trap, lint can build up other places as well. Eventually, it tends to get close to the heating element and catch fire. That's why it's important to either take apart your dryer and clean it yourself or hire a professional every two years.
If you're particularly handy and use your garage to work in, there are a number of fire risks you should be aware of. The most dangerous is sawdust. For those that work with wood, you already know that sawdust accumulates quickly. It's also extremely flammable. Often, it can form a thin layer over work benches and other surfaces, which can quickly catch fire. To prevent this outcome, use a shop vac to clean after working with wood. It's also a good idea to use water to wipe down the area.
This hazard can be found in any room of the house and develops overtime. As you use your outlets, they tend to get loose. After years of use, you may notice that chords don't fit snugly anymore and may even fall out. These loose chords generate more heat and can lead to a fire starting. This can be a serious issue for outlets with chords plugged into them all day that might ignite while you're not home. The best way to deal with this hazard is to replace outlets when they start to get loose.
With some attention and proper precautions, you can greatly reduce the risk of fire in your home.
At Perry Hood Properties, we construct high quality homes with high quality materials in the Tulsa, Broken Arrow and Bixby areas. If you're ready for a new home, contact us or browse through our currently available homes.