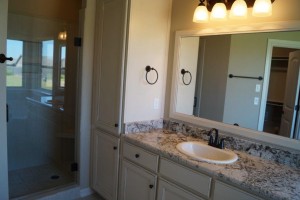 When constructing homes for our customers, we allow them to choose their own hardware. You have the choice of oil rubbed bronze or nickel for lights, plumbing fixtures, towel bars and other accents and pieces around the home. Whether you're building a new home or just looking to update your current home, making these choices can be difficult, however. Here's a primer to help you choose between all the various fixture finishes available.
The choice of many of our home-buyers, oil rubbed bronze hardware around the home offers a traditional look and feel. It's a great alternative to the more modern chrome or brushed nickel finishes. Oil rubbed bronze is also easy to clean, durable, doesn't show water spots or fingerprints and is easy to match with other elements in your home.
Brushed nickel is another great choice because it goes with almost everything. That's likely why it's been a standard choice for homes for decades. It also lasts longer than nearly any other finish so you won't need to re-finish or change out fixtures in the foreseeable future. The only material designers recommend you don't use with brushed nickel is stainless steel because it makes the nickel blend in rather than standing out.
A close cousin to chrome finishes, this smooth, shiny finish offers a slightly darker look. It even has a tendency to change color slightly under different lighting. This can make it hard to match, however. But, it's another easy to clean and durable option that helps you create a modern look.
An old stand-by, polished brass immediately gives any room a vintage, old world feel. While it's readily available, brass is typically more expensive than other finishes. Still, it matches well with almost anything and is quite durable.
This could be the finish of the future as designers have been increasingly infatuated with it. It brings a brushed gold look without the shiny, showiness of polished brass. The matte finish also makes it more durable and means it doesn't show water spots and fingerprints. Currently, it's difficult to find, however, and can be quite expensive. But, it can be paired well in almost any setting.
If you're looking for a simple, inexpensive finish for your home's fixtures, chrome is the first thought of most home builders. It's both versatile and easy to maintain. But, while it goes with almost everything, it also requires constant cleaning. More than any other finish, every smudge and stain shows up clearly on chrome.
Ready to build your own custom home with features that you love? Give us a call and start the process today!