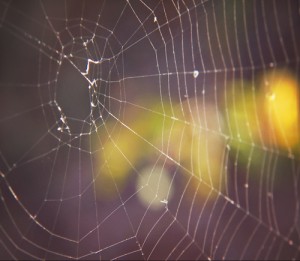 There are a number of concerns to deal with around your home when fall arrives. One of the biggest annoyances and frustrations for most homeowners is pests trying to escape the cooler outdoor weather and getting into your house. While a preventative call to an exterminator is always helpful, there are a few other efforts you can make yourself to make your home more difficult for insects and other pests to infiltrate.
It's pretty simple when you think about it. Spiders, bugs and mice all get into your home through small holes and cracks around windows, doors, dryer vents and other areas. Insects can typically squeeze through holes no bigger than 1/16 of an inch, while rodents only need about a quarter inch opening. Caulk, expandable foam, copper mesh and cement can all be used to close up gaps. Sealing your home also serves to make it more energy efficient so it's a worthwhile exercise before the weather gets cold.
If you've stepped outside with your porch light on after dark recently, you've noticed the swarm of moths and other insects present. Not only do you outdoor lights attract insects, but they bring other pests like spiders, who don't react to the light but rather the assortment of bugs the spiders typically eat. The simple solution is to turn these lights off to keep the bugs away, but leaving the outside of your house dark all winter can be unsafe. Instead, consider replacing bulbs in your outdoor lights. There are a few alternatives to traditional bulbs that are less likely to attract insects.
Shrubs, trees and ivy look great around the outside of your home, but they are also home to a variety of pests. If insects, spiders and rodents make your garden home, it's more likely that they'll try to migrate indoors when it becomes warmer than outside. If you don't want to completely move plants farther from your house, you can research specific plants that are inhospitable to the type of pests you're usually seeing. This is also a reason to clear away fallen leaves and debris, which can also be home to pests.
Even with all of these precautions, some pests are still likely to get inside from time to time. In order to make your home less attractive to them, it's important to keep it tidy. Obviously, when food, crumbs and residue are left uncleaned, ants and mice are likely to be drawn. Sweeping and vacuuming also makes it less likely that you'll face an infestation. Even clutter like piles of clothes or books can be a good hiding place of bugs. And, the longer they're allowed to hide in your home, the more likely they'll be able to breed and become a much bigger problem. By keeping floors swept, and your home clean, pests become easier to spot and less likely to stick around.
Taking these steps now can help you enjoy a pest free fall and winter.
And if you're ready to move out of your old home and into a brand new one, contact us at Perry Hood Properties. We have a number of currently available homes in Tulsa, Broken Arrow, and Bixby, or can help you build your dream home in neighborhoods throughout the area.