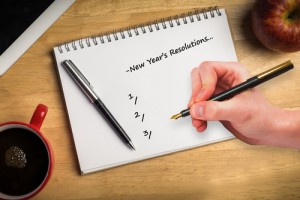 New Year's resolutions are a great way to make improvements for yourself by losing weight, spending less or cutting out unhealthy habits. You can also make improvements around your home with your resolutions. Here are a few great ideas for making your home more comfortable, more efficient and more stylish in 2016.
You may be hoping to eat less in the new year, but for your home, it's important to eat up less energy. By making a few improvements, you can see your energy bills drastically reduced and enjoy better climate control. That means your home will be warmer in the winter and cooler in the summer without having to pay as much each month. Typically, you'll want to start with your ducts. Sealing up any gaps or holes and adding insulation prevents both hot and cold air from leaking out while it's being delivered to vents around your home. Doing so could save you more than $200 each year on energy costs, and make your heating and cooling systems more efficient, which will make your air conditioner and furnace last longer. You may even qualify for a rebate for making your home more energy efficient.
Whether you have allergies or not, purifying the air in your home will make a noticeable difference. And, there are a few easy ways to keep contaminants out of the air you and your family breathe. Start by regularly changing the air filters. During peak use of your heating and cooling system, you may need to change your filters once each month. At minimum, you should probably change your filters four times each year. Also, make use of the ventilation methods already present in your home. Your kitchen's vent hood and bathroom's vent should exhaust outside of your home. If they don't, look into having that fixed. When they do, they're effective in removing smoke, fumes and excess humidity. Finally, you can use portable air filters around your home to further clean the air. These, like humidifiers, are a great way to reduce contaminants during allergen season or any time you notice the air in your home is harder to breathe.
You've no doubt heard of spring cleaning, but the spring isn't the only time you can remove clutter and clean up your living space. For the new year, resolve to get rid of items you don't often use and, at the same time, add additional storage features. The end of the year makes a great time to get rid of seldom used items because it's easy to tell what's been used this year and what hasn't. If you come back next year, and items you decided to keep haven't been used or moved, you can probably get rid of most of them too. Even if you get rid of a lot, improving storage will make the stuff you keep more organized and easier to access. Add shelves to closets, bathrooms or your kitchen, or look into organizers for your kitchen cabinets or closets.
There are plenty of other ways to improve your home so take some time to think about what would make the most difference to you and then get started.
If you decide that what you really need is a brand new home, contact us at Perry Hood Properties. We build new homes in Tulsa, Bixby and Broken Arrow and can offer you a move-in ready home or start the process of building a home just for you.