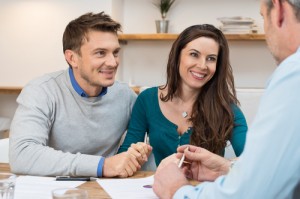 There are a number of steps you should take in order to decide whether or not you're ready to buy a new home. Those include investigating the housing market in your area, calculating mortgage rates and a likely monthly payment for a new home, and looking at your own budget and finances. Once all of that is complete, if you decide it's time for you and your family to buy, there are some additional steps you should take to prepare for house hunting. Having these tasks finished before you go out looking for a home will allow you to make an offer as soon as you find one you like.
Your credit score will have a significant impact on your mortgage rate, and whether or not you can qualify for a loan. Before you spend time looking at houses, make sure your credit is in order. There are a number of free tools that allow you to check your credit score, and you can request one free credit report each year. Even if you're not currently in the market for a new home, it's a good idea to stay updated on your credit so you can resolve any issues. You may even find that mistakes were made by creditors, which have left a blemish on your record. Getting those fixed and taken off your credit report is much easier when you catch them immediately.
Whichever lender you choose will require you to fill out a stack of paperwork, and submit another stack of documents that give evidence about your financial stability. Putting an offer on a house can be stressful when you're having to scramble to assemble these documents. So, before you begin your search, gather the necessary documents to make your life easier. You'll likely need pay stubs, bank statements, W-2s and tax returns going back at least two years. If you've been renting a home or apartment, you'll want to have the names and addresses of your recent landlords too. And, if you have current loans or lines of credit open, you'll need statements for those also.
Being preapproved for a mortgage gives you some leverage when you find a home you'd like to make an offer on. It also gives you some stability knowing about how much you're able to spend. Your first step in becoming preapproved is to find a lender. Typically, you'd want to start at the institution where you do your normal banking, and maybe a couple local credit unions. It's a good idea to apply at multiple vendors all at once. This will allow you to find the best rate possible, but will prevent your credit from being dinged over and over when the lenders check it.
In the current market, those without perfect credit may have difficulty finding a lender willing to approve them. In that case, there are alternatives you can investigate. For example, the Federal Housing Association has a program designed to help first-time home buyers qualify for a mortgage. An FHA loan basically means that the FHA is insuring your mortgage, which gives lenders more confidence in lending to you. It also only requires a 3.5-percent down payment. If you're not a first-time home buyer, there are other government programs you might qualify for that will help you to afford a new home.
Once you've completed the necessary preliminary steps of buying a house, contact us at Perry Hood Properties. We can help you design and build a new home that's perfect for your needs, or show you our already constructed, move-in ready homes in Tulsa, Broken Arrow and Bixby.