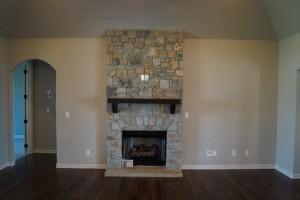 With colder weather coming in the near future, most homeowners are already getting out the quilts, space heaters and winter clothes to attempt to stay warm during this harsh Oklahoma winter. That also means it's time to get your fireplace cleaned and inspected before another season of use. If you don't have a fireplace, you may consider adding one to your current or future home. Here are a few benefits you'll get when you do.
Imagine walking into a room with a roaring fire on a cold, gray, winter afternoon. Now imagine walking into the same room, with the same furnishings and decorations, but no fireplace. It's a completely different feeling and the room even looks different. In many ways, a living room or den is incomplete without a fireplace. Not only does it add a rustic charm, but the warmth, glow and sound of a crackling fire even serves as a relaxing addition. So, in addition to the design benefit of making a room look more inviting, there's the added benefit of making a room feel more inviting too.
This is perhaps the most obvious benefit of having a fireplace in your home. When you're able to use your heater less, your utility bills will decrease significantly. Anyone who has regularly used a fireplace in the winter can tell you that the heater isn't necessary when the fireplace is in use. While you can't expect the fireplace to heat your entire home, it heats up the room it's in quickly, and retains heat for a long time. Over time, that heat moves to other rooms to keep them warmer too, so you can keep your heater off for longer. In most cases, any costs associated with your fireplace are off-set by your energy savings.
There was a time when you needed to be able to build a fire from scratch in order to make use of your home's fireplace. That's no longer true, however. Starting a fire in your home's fireplace is often as easy as flipping a switch. Whether you have an electric, wood or gas fireplace, the process of starting a fire is simple and easy to learn. Additionally, clean-up and maintenance of your fireplace is as easy as ever. While regular cleaning is required to keep dust and soot from building up, modern fireplaces stay cleaner for longer and don't require you to regularly sweep the chimney. All of this contributes to the overall experience of owning a fireplace being easier than ever before.
At Perry Hood Properties, we regularly include fireplaces in our homes and floorplans. You can even enjoy an outdoor fireplace on the patio, as well as a fireplace in your living room. Browse through our currently available homes or call us to start building a home specifically for you and your family.