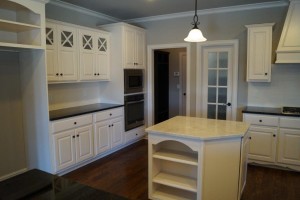 Moving into your home with beautiful and contemporary kitchen cabinets is only the start. There are a number of options you can add to your cabinets in order to make your kitchen more functional without sacrificing the look of those cabinets. At Perry Hood Properties, our homes are constructed with high-quality Jay Rambo cabinets, which give your kitchen an attractive look. To add additional functionality, Jennifer Ott put together a few suggestions at Houzz. Here are a few of our favorite ideas.
Adding lighting underneath your cabinets serves a number of uses and doesn't take up any additional room. These lights help with food prep and other work done on your counters and can serve as nightlights for those late-night trips to the refrigerator. Low-profile LED strips are barely noticeable during the day and are also inexpensive.
The backsplash is one of a limited number of design elements in your kitchen. Sometimes putting outlets over your backsplash is unavoidable, but in most cases you could put outlets on the underside of your cabinets instead. This also ensures that there's always an outlet close by when you need it. The one downside is unsightly cords hanging down from the suspended outlets, but that can be easily remedied by unplugging countertop appliances when they're not in use.
It's always difficult to find a space for your stemware. A similar problem is storing wine bottles without taking up a lot of counter space. By utilizing your cabinets, you can solve both problems and save space in an attractive way. A stemware rack can be added either inside a cabinet, or to the underside of one. The underside of your cabinet can also be used to add a bottle holder. Putting these two options together is extremely handy.
Do you use your tablet for recipes while you cook? Or do you talk on the phone or return emails while in the kitchen? Even if you just want to listen to music while you cook or clean, having docks for your electronic devices mounted under your cabinets is a great way to keep them out of the way but still accessible. These mounts hang down far enough where your device is easily readable but ensure it won't ever be in the middle of spills.
There are a number of other ways to customize your kitchen to better fit your needs. Consider mounting your knife block under cabinets, or keep paper towels or a jar or can opener mounted to keep them handy.
At Perry Hood Properties, we ensure that all of our homes are constructed with high quality materials that will last for our residents. Contact us for information on building a new home, or visit our Catalog to view currently available homes.