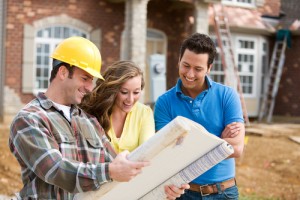 If you're new to the home building experience, it can seem daunting. There are a number of decisions to make and plenty of paperwork up front. But, if you're working with an experienced builder, like Perry Hood Properties, these obstacles are minimized and the process runs much smoother. Additionally, if you go into the process with an idea of what to expect, it will be a much more enjoyable experience. With that in mind, here are some things to keep in mind as you start the home building process.
These are major changes that need to be agreed upon early in the process. Often, a structural change or addition affects the building permit so your builder needs to know about them as soon as possible. These are also the type of changes that will greatly increase the cost of the project if you attempt to make them later. They could require walls going up or coming down, electric or plumbing being moved and the like. Keep that in mind when you're deciding on your home's floor plan and be sure that it's exactly what you want before moving forward.
These are more cosmetic in nature than structural changes. A post-purchase upgrade refers to paint and cabinet color, lighting, plumbing fixtures and other details that give your home the look you want. While you could purchase these upgrades independently, purchasing them through your builder allows you to roll the cost into your mortgage if you choose. There's also the fact that the last thing most home buyers want to do after moving in is start working on their home. By deciding on these upgrades during the building process, your home is perfect the day you move in.
Every builder's timeline will be similar, but will have specific difference that should be noted. For example, the amount of time you're able to make changes varies. To save yourself from making a costly change after a deadline, be sure you and your builder discuss this. Since you'll likely be selling a house at the same time, it's also important to have deadlines for certain phases. This way, you can know that your project is on-schedule and when a likely move in date will be so you can move out of your current home accordingly.
Don't forget resale value
Initial design meetings often leave home builders with plenty of ideas on how to customize their home. Over-customizing to match your personal taste and style results in a dip in resale value, however. For example, a unique granite countertop may drive potential buyers away in the future, whereas a uniquely painted wall can be easily painted over. You don't have to skip customization, but do it intelligently so that if you need to sell your home, it will be appealing to a wide audience.
Whether you're a first time home builder or have been through the process before, it's important to work with a builder that's experienced and trustworthy. You're not expected to understand every phase necessary in building a house, but having a builder who not only knows the process, but can also offer you valuable advice can save you from mistakes that could delay your project or increase the cost. Trust their expertise and don't be afraid to come to meetings with plenty of questions and ideas. When you have a specific idea of what you want, your builder is able to guide you to it.
At Perry Hood Properties, we've built homes in Tulsa, Broken Arrow and Bixby since 1981. If you're ready to build a new home for your family, or would like to see our move-in ready available homes, contact us today.