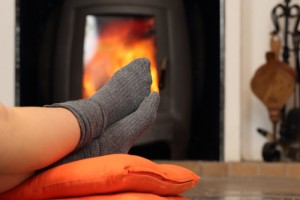 The fall can be a particularly dangerous time around the house as a number of fire risks will be present. In fact, October is Fire Prevention Month. With that in mind, here are some specific risks you'll encounter during the fall and how to prevent them from turning into a disaster.
Every home should feature both of these helpful safety devices, and most do. Unfortunately, it's easy to forget about them and let batteries wear out. Both smoke detectors and carbon monoxide sensors should be checked at minimum twice per year and the start of fall is an ideal time. Go ahead and replace the batteries even if they're currently in working order. Then test to ensure these alarms are able to alert you in case of emergency. In many cases, especially with carbon monoxide sensors, you may need to install additional alarms, or move them so they're easier to notice.
Since many of us will be using the stove and oven more in the fall and winter, now is a good time to brush up on fire prevention tips for your kitchen. The first and most important tip is to never leave cooking unattended. When you walk away from a stove in use, you allow for the possibility that grease will ignite, a nearby flammable item is too close to heat, a child or pet could disturb cooking and cause a fire or a number of other dangerous situations. Each year, more than 150-thousand house fires are caused by cooking equipment. Don't take any unnecessary risks. Additionally, know how to deal with a fire if it starts in the kitchen. Turn off heat to the stove immediately and cover a flaming pot or pan with a lid until the fire goes out and it cools down. If a fire starts in the oven, turn it off, but don't open the oven door.
For chilly nights and mornings, many of us use space heaters around the house. Unfortunately, there are many potential hazards tied to these heaters if you're not careful. They should never be left on when you leave or while you sleep. Modern space heaters often come with thermostats or timers to keep you from leaving them unattended. Additionally, it's important to keep the area around your space heater clear. It should be sitting on a non-flammable surface and be at least 3-feet from any flammable materials.
Rather than part of prevention, your family's escape plan is important in the event of an emergency. Everyone in your home should know what to do in case of fire. First, be sure you have a working fire extinguisher and that everyone knows where it is and how to use it. Next, set up multiple escape routes and practice them. Each member of the family should know how to get out regardless of where they are in the house at the time of a fire. These escape routes may require additional items like ladders, so be sure to include training for that as well.
The start of fall is a good time to remind yourself about changing smoke alarm batteries, having your furnace inspected and having your fireplace and chimney cleaned and inspected. Each of these tasks should be done at least once per year, so get in the habit of doing it at the same time annually.
If your family is ready for a new home, come see us at Perry Hood Properties. We build homes throughout the Tulsa, Bixby and Broken Arrow areas. Look through our current selection of available homes, or contact us to start the process of building your own custom home today.