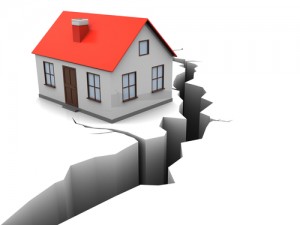 Oklahoma's strongest recorded earthquake, measuring 5.6-point on the Richter scale, occurred within the last five years. Earthquakes in Oklahoma are stronger and more prevalent than ever before and it has many homeowners looking into adding earthquake coverage to their home insurance. Is that the right move for you? Here are a few things you need to know about earthquake insurance to help you make your decision.
Deductibles and policy limit
The deductible of your insurance policy tells you how much you'll have to pay without the help of insurance in the event of an earthquake. Typically, in the case of earthquake coverage, your deductible will be calculated from a percentage of the policy limit. In states like California, a deductible usually starts at 15-percent of the policy limit. In Oklahoma, you can get a much lower deductible, at times as low as 2-percent of the policy limit, but that may come with a higher annual premium payment. If your home is insured for $300-thousand, you can expect your deductible to be at least $6-thousand and more in most cases.
The nature of earthquakes makes it less necessary to insure the contents of your home. In a fire, for example, both the structure and your possessions are likely insured so you can replace your home and the contents of it. An earthquake is less likely to damage your possessions, however. So earthquake insurance usually offers to cover possessions up to a specific dollar amount, which usually starts around $5-thousand. This will mainly cover any electronics or breakable items that were broken by a fall. If you require more coverage, that dollar amount should be able to be added to.
Your standard homeowner's insurance policy only insures items like jewelry up to a certain dollar amount. Earthquake insurance policies typically include far more exclusions that won't help you pay to replace certain damages and don't count towards your deductible. These include loss or damage to landscaping, pools, fences and separate structures like garages or tool sheds. High dollar items like chandeliers, china and crystal are also often excluded. It's important for homeowners to know what is and isn't covered so they can financially plan properly and add coverage where it's needed and available.
While it may seem like earthquake coverage doesn't cover much, in the event of catastrophic damage it's entirely necessary and can result in significant savings. Since Oklahoma isn't viewed as a severely at-risk area where costly damage from earthquakes regularly occurs, policies can be as little as 50-cents per $1000 in coverage. That means you can insure your home and some possessions for only a couple hundred dollars per year.
While Oklahoma has already seen major earthquakes, thankfully, catastrophic damage has never occurred in the Tulsa area. Still, being covered in the event of an earthquake is a choice many homeowners are now making.
At Perry Hood Properties, we provide resources to our homeowners to keep their families and homes safe from all types of issues.
If you're ready for a new home, browse through our catalog of currently available homes in the Tulsa, Broken Arrow and Bixby areas, or call us to start the process of building your own home.