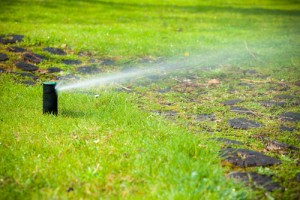 While there's still plenty of cold temperatures in the forecast, now's a great time to start planning for the spring care of your home's lawn. The lawn plays a big role in the overall look of your home so you want to make sure you lay the groundwork early in the year in order to enjoy a lush, full lawn throughout the summer. Yahoo Homes put together a valuable list of tips for what your lawn needs early in the spring.
Your first step should be is to test the acidity levels and nutrient levels of your soil. This will help you decide what the soil needs added to it in order to grow a healthy lawn. For example, if your soil is too acidic you can add lime to it, but if it's too alkaline, you'll need to use sulfur to lower the pH.
Since Oklahoma summer's are hot and dry, grass species start slowly growing in the spring and will continue throughout the summer if properly cared for. In cooler regions, grasses grow more rapidly throughout the spring and won't grow much over the summer. The key to fertilization is to apply fertilizer when grasses hit their peak growing times. For Oklahoma lawns, this may be when the weather truly starts to get warm and then again in the middle of summer.
It's not just how much you water your lawn that determines its health, but also the way you water. Watering too much can actually make your lawn more susceptible to drought. Typically during the summer, lawns need about an inch of water once per week. Your watering should be done before temperatures hit 80-degrees, which means summer watering needs to be done in the early morning. Watering slowly is also key. This prevents runoff and grass grow deep roots.
Now is the time to try to eliminate weeds so they don't infest your lawn and limit the growth of your grass. Unless you've already seeded, look for a pre-emergent herbicide that inhibit the germination and growth of weeds. If you control weeds now, you're lawn can grow so fully that it won't allow for the growth of any throughout the year.
These four tips are things you should start thinking about now, before spring has officially started. Also, don't plan to roll out the lawnmower too early. Let your lawn grow for a few weeks until it reaches a height of about 4-inches before clipping it the first time.
At Perry Hood Properties, we build beautiful homes in the Tulsa, Bixby and Broken Arrow area and love giving our homeowners tips for how to keep their homes looking gorgeous for years to come. If you're hunting for a new home, browse through our available homes and give us a call!