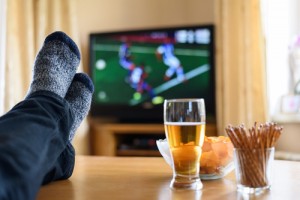 Having some extra space in your home is a luxury that allows you to creatively create a room for fun or extravagance, rather than necessity. At Perry Hood Properties, many of the homes we build feature a game room, or bonus room, that you can use to put your own personality into your home. Once you have an available game room, put these set-up tips to use to ensure you and your guests always have a great time.
Game rooms don't have to have a specific function, that's part of the fun. But, if you do plan to use the room for a specific type of activity most often, it's good to know before decorating and choosing furniture. It may be for your children to play in, for movie or sports watching, or for an at-home bar area. You can see how each of these would call for distinctly different decorating ideas. So, before you get into the details of your room, decide on how you want to use it.
The seating included in your game room will also be dictated by the function, but there are a few good rules of thumb to go by. First, the amount of seating available. You'll want to meet or exceed the amount of seating in your dining room. If you can comfortably serve eight guests, be sure all eight can then have a seat in the game room. Then, be sure to get extra comfortable chairs or couches to ensure guests can stay for hours. If you're planning to watch movies or sports or play games, you don't want discomfort to interrupt the proceedings.
Perhaps more than any other part of your home, a game room is a space where you can really let guests know your personality. Remember your bedroom when you were a kid? There were likely posters and other items that let people know what you liked. A game room can be similar. Hang up pennants or memorabilia from your favorite sports teams or movies. Incorporate colorful furniture that would look out of place in other parts of the house. This is your chance to be you without having to worry about matching the rest of the home's decor.
Most game rooms are located on the second floor of a home, which means that you may have to run up and down stairs for drinks and snacks. Instead, plan ahead and include a small refrigerator, liquor cabinet or wet bar. This way, refreshments are always just a few steps away and you and your guests can hole up in the game room without interruption. This could be particularly handy if you have teenage children. Either you or them can use the game room without having to walk through the living room and interrupting the other's plans.
A game room offers a number of advantages to your home. At Perry Hood Properties, we offer a number of beneficial amenities in our homes. Customize the options you want included and end with your dream home.
When you're ready to start building, just give us a call or look at our currently available homes.