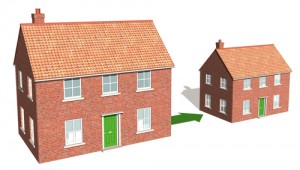 When you're starting your family, and as it grows, you typically think about moving to gain additional space, or perhaps to find a newer home with higher quality materials and amenities. But, there are also circumstances that call for downsizing from a larger home, to one with less space. Here are some of the typical reasons why downsizing is an attractive option.
The most common reason for downsizing that we notice from our customers is that kids have moved out of the house, and the extra bedrooms that were once necessities are now unused. In these situations, downsizing to a smaller home with fewer bedrooms makes it easier to maintain and more efficient to heat and cool your home. Many couples also prefer to move from a two-story home to a one-story home to eliminate the need to walk up and down stairs since the additional space isn't necessary. Since a smaller home often also costs less, it opens the opportunity to include additional amenities in the master bath, kitchen or patio.
Another common reason for moving to a smaller home involves concerns over mobility for aging individuals. Particularly for those in two-story homes where trips up and down stairs become more dangerous, moving to a smaller home can help to avoid falls and injuries. Having a smaller area to keep clean is typically also beneficial for the elderly.
As mentioned, the price of buying a smaller home with two or three bedrooms is usually significantly less than a home with four or five bedrooms. But there are other savings too. Most notably, energy savings. Heating and cooling less space requires less energy, and the savings really add up. This is especially true when you have only one floor compared to two floors. When the new, smaller home you're moving into is newer, there are likely additional energy efficient materials and products used that increase monthly energy savings even more. You'll also likely save on property tax.
Simplifying and De-cluttering 
While there aren't many individuals who can commit to this last reason to downsize their home, those that do tend to see a marked difference. You may have noticed that the amount of stuff you own usually conforms to fit the space of your home. When you live in a larger house, you'll acquire enough things to fill each room over time. When you decide to move to a smaller house, it forces you to really take stock of each item and get rid of many of your less necessary possessions. This means you get rid of items you have more than one of, or things you rarely use. For many of us, this is a incredibly satisfying exercise. There's also the additional benefit of being able to donate your extra stuff to charity, or sell it for some extra money.
Whatever your reasoning, if you decide it's time to downsize, contact us at Perry Hood Properties. We have a variety of available houses and floor plans, which means we can find the right fit for just about anyone. Whether you're ready to downsize, or need a home with more space for your growing family, look through our currently available homes, or contact us to start construction on your own custom home.