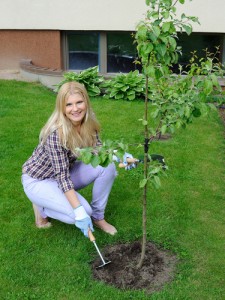 There are a number of benefits related to adding trees to your home's landscape. In addition to the obvious environmental benefits of cleaner air, and a shadier yard, trees around your home also give it better curb appeal, increasing property values by as much as 20 percent, and can lower your energy bills. A well placed tree can even obscure a less attractive view, or dampen noise from neighbors or nearby streets. But, before you start to reap the benefits, it's important to consider exactly what's important to you, why you want to add trees to your yard, and what space you have available. Here's a quick rundown of how to choose the right tree for your home.
Choosing the right tree
As you probably already know, there's a dizzying number of different tree species available, and each offers something unique. Making the right decision for you goes well beyond the aesthetic. Consider the various benefits each type of tree offers, and decide which of those benefits is most important. If energy savings are high on your list, you'll want a large, deciduous tree like an oak or maple. These trees will grown large enough to provide shade through the hottest parts of the year, while also allowing sunlight through in the winter when their leaves have fallen. If providing shade year round is important, you're better off with an evergreen tree. Additionally, you'll always want to consider what will be falling from your tree. Some species' branches hold up better to wind and winter storms. Others produce messy flowers, seeds, or nuts. This can be very important if your tree will share space with a swimming pool, or a garden you want to keep tidy. And, of course, many trees are a problem for allergy sufferers.
Assessing your yard
The makeup of your yard will also play a significant part in choosing a tree. Obviously, the less space you have, the smaller your tree needs to be. But it's not just the amount of ground space. You'll also want to consider how tall the tree will get, how wide it's limbs spread, and its root system. Power lines and other utility lines may run overhead, or underground and be vulnerable to certain trees. Some trees have deep roots that can even interfere with water lines, or your septic system. For others, the problem lies near the surface where roots can disrupt sidewalks or driveways, or just present a hazard in your yard. You'll also want to consider how you'll be keeping your tree watered, especially during the first summer of its life. Some trees will require more maintenance in this area, and wouldn't be recommended if you don't have an irrigation system.
Generally, trees can be planted at any time of the year, but it's usually recommended to try to plant them by early spring, before their dormant period ends.
If you're ready to move into a new home before planting trees, contact us at Perry Hood Properties. We build new homes in desirable neighborhoods throughout Tulsa, Bixby and Broken Arrow, and also offer many already constructed, move-in ready homes.