(3.5-min read)
Whether you're looking to protect your front door from particular security concerns or make your home more energy-efficient, storm doors are a great addition. In this piece, we're going to review some of the perks of installing a storm door on the exterior entrances of your home as well as look at the most popular building materials.
Storm Doors for Security
When one thinks of storm doors, they don't typically think of security. After all, storm doors are relatively lightweight and not thought to be robust enough to protect your home. What they do provide is a layer of friction to would-be home invaders. Exterior doors typically open inward. While this is handy in terms of protecting your doors from the elements, it makes them susceptible to being kicked in. Storm doors, however, open outward. When a storm door is closed and locked, this creates an additional barrier between a would-be home-invader and an exterior door. It's true that a dedicated home invader could likely break a storm-door to get to the point of kicking in an exterior door, this would be quite difficult and would attract too much attention before they could gain access to the outer door.
Storm Doors for Energy Efficiency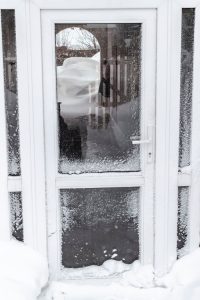 Storm doors are very popular among homeowners for the added energy efficiency they bring. A properly installed storm door can significantly reduce the draftiness or exterior doors in the winter and help retain the coolness of air condition systems in the summer.
"Very High Strength-to-Weight Ratio"  
There are a wide variety of storm door materials available for purchase. While there are wooden storm doors as well as wood-cored aluminum storm doors, fully aluminum framed storm doors are likely your best option. Aluminum has a "very high strength-to-weight ratio," according to Frank Costanza, as played by Jerry Stiller on the show Seinfeld. Wood, on the other hand, has an immense amount of flex and is much more susceptible to weather damage.
Storm Door Viewing Styles: Full or Partial View
To protect your beautiful front door while keeping it on display, there are various storm door viewing options.
Full-View Glass Storm Door Window
A full-view glass storm door is a door with a full-length window framed in aluminum. This provides the very best view through the storm door of your elegant front door.
Partial-View Glass Storm Door Window
If you're less particular about the visibility of your front door or would like additional window options, there is always the partial-view glass storm door windows. These options also allow for a section of sliding glass for a partial screened section for bug-free ventilation. Screened sections are especially popular with those who would like to use their storm doors as screen doors with the weather is favorable.
Cost of Storm Doors
Depending on the level of security options, materials, sizes, and styles, storm doors can run from as little as $170 to as much as $1,300. While moderately handy homeowners can install their own storm doors, professional installation of a storm door can range from $160-$260.
The Perfect Storm Doors for Your New Home
If you're building a new home, it's possible to select a storm door that matches your home's existing style. If you're looking to build a new home in the Greater Tulsa, OK area, look no further than the home construction professionals at Perry Hood Properties.