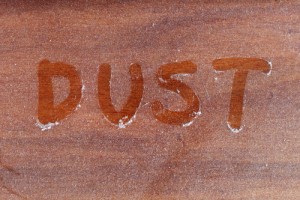 When you hear the term 'air pollution', your first thought is probably of a smog-filled city street. Air pollution affects the inside of your home too, however. Radon, lead, formaldehyde and chemicals could be in the air and cause health problems for your family from asthma to allergies. Here are some simple ways to improve the air quality in your home.
It's well-known that carpet can hold onto dust and other contaminants and greatly impact the quality of the air in your home. But tile and hardwood floors can also be culprits if they're not kept clean. Your first step is to buy a vacuum with a HEPA filter. This ensures that dust and allergens are sucked up and kept in, rather than being released back into the air. Following up your vacuuming with the mop will help collect any dust that was left behind on those hard surfaces. A microfiber mop will grab onto dust and dirt without even adding cleaning solution.
When the humidity level in your home rises to 50-percent or more, it creates a friendlier environment for dust and mold. In the summer, running your air conditioner helps to reduce indoor moisture in the air and controls allergens, provided you have clean air filters. The rest of the year, a dehumidifier can help if the air gets too humid. Additionally, if your dryer doesn't vent outside, hire someone to reroute it. Also crack a window when cooking, showering or running the dishwasher to immediately let moisture escape.
Many of us enjoy the lemon or pine scent that comes with cleaners, air fresheners and laundry detergent. These synthetic fragrances impact air quality, however, by releasing chemicals you or your family could be allergic to. In fact, one study found that a typical plug-in air freshener emitted 20 different volatile chemicals. If the air in your home needs to be freshened up, consider a more natural alternative. Open a window to let in fresh air. If you enjoy a specific scent, consider using lemon juice and baking soda when cleaning, or boil cinnamon sticks on the stove.
Most homes are now equipped with carbon monoxide sensors to warn of the presence of harmful gas. Radon is another concern that isn't tested for enough. It's also an odorless gas and is the second leading cause of lung cancer. Testing every 6-months to a year is a good idea to ensure the air in your home is safe. There are similar methods for testing for other contaminants and allergens in your air, as well. By testing regularly, you'll detect a problem before it causes serious health hazards.
At Perry Hood Properties, we build high quality homes in Tulsa, Bixby and Broken Arrow and want our customers to enjoy those homes for years to come.
If you're ready to build your next home, give us a call to get started. Or browse through our inventory of already constructed homes.