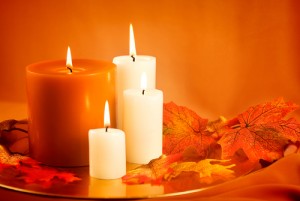 Thanksgiving is a great time to welcome friends and family into our homes and enjoy home-cooked meals together. It's also a great opportunity to incorporate some fun decorations to really get into the holiday spirit. Here are a few ideas that might just spark your imagination.
Here's a different way to talk about what everyone is thankful for. Put up a message board and as guests arrive, have them write down their ideas. You can even have small leaves cut out of construction paper to further the Thanksgiving theme.
The mantle above your fireplace is a great place for decorating for the holidays. Consider a harvest theme with plenty of ceramic pumpkins and maybe some ornamental plates. Bundles of dried wheat also look very fall and festive. You could even use a small chalkboard to write inspirational or seasonal quotes.
Decorating your front door ensures that guests get into the holiday spirit the moment they arrive. Consider creating your own Thanksgiving wreath this year. Start with an evergreen wreath and add your own touches like pine cones, roses, berries and hydrangeas.
The warm glow of candles throughout your home certainly creates an inviting ambiance. You don't have to be limited to plain candles, however. Decorate your glass votive holders by wrapping them with paper, corn husks or anything that you can think of. Add a feather, bow or other item for some flair. Just be sure the decorations are far from the actual flame.
This is a Thanksgiving tradition that immediately brings back memories. There's no better Thanksgiving centerpiece than an overflowing cornucopia. Fill it with anything meaningful to you. Leaves, fruit, gourds, or even photos could make an ideal filling.
Sometimes, the simplest decorations can be the most effective. Take, for example, this idea of filling glass containers with signs of the season. Fill one with a variety of colors of leaves, another with gold and red ribbons, and one with walnuts, or pecans. Adorn the containers with bows or ribbons and you've got a simple decoration that's easy to make.
The holidays are a great time to teach your children about their ancestry, or just to remember your loved ones. There are a number of creative ways you can use family photos in your decorations. Consider making copies of baby pictures, then cutting them out and making a family tree on your wall. The best thing about family photos is everyone can enjoy them and they never look out of place.
These are just a few options for decorating your home for Thanksgiving.
If you're ready for a new home to decorate, contact us at Perry Hood Properties. If you act now, you could still close on one of our currently available homes in Tulsa, Broken Arrow and Bixby before the new year.