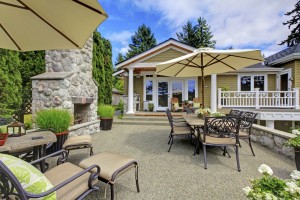 When it comes to American traditions, enjoying a meal in the great outdoors of your own backyard is right up there with apple pie and baseball. Fresh air can often be the secret ingredient that really pulls a meal together. Unfortunately, setting up a patio for optimal enjoyment isn't always easy, or affordable. To point you in the right direction and pinch a few pennies, we made this handy list.
Use Perennials– One way to stretch your budget and add some colorful touches is to plant lots of perennials in pots and spread them across the patio. These are typically low maintenance, and will come back every year.
Double Down– When shopping for furniture, look for pieces that have double functions. Ottomans that double as storage or chairs that can be used at the dinner table and the fire pit are both good examples.
Big Rugs Make a Big Difference– Using a rug for outdoor decor might sound like something only broke college students do, but, when done correctly, a big outdoor rug can transform a patio. You'll want to make sure to buy a rug that is intended for outdoor use so it can hold up to the elements.
Big is Better– Speaking of buying big, this concept also applies to furniture. Instead of buying lots of little furniture, invest in a few large pieces of furniture. This makes the space feel less disorderly, and can make your budget go further.
Timing is Everything– Right after the 4th of July is typically the best time of year to buy patio furniture. If you try to buy in March when it first starts to get warm, prices will be fairly high. However, a post Independence Day sale is almost a guarantee.
Making your patio a second dining room in the summer lets you enjoy your home so much more, and it can really increase the property value when it comes time to sell!