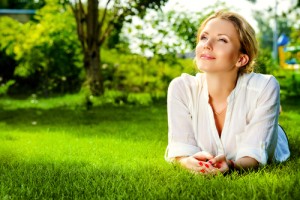 Everyone wants a full, lush lawn in time for warmer temperatures. There's nothing better than being able to enjoy your lawn throughout the summer, but it can be difficult in Oklahoma's climate to maintain a healthy lawn. And, it's even more difficult to repair your lawn after years of neglect. Spring is the perfect time to get started with lawn care, however, so here are some tips to help you create the lawn of your dreams.
pH Level
If you're just starting out with lawn care, testing the pH level of your soil is a good first step. Failing to do this could result in a lot of wasted effort planting in soil that's inhospitable to plant growth. Typically, you'll want the pH between 6.0 and 7.0. Ideally, you'll want to adjust the pH in the fall, but you can still make an impact in the spring. To increase the pH level, try adding lime. To decrease it, try adding sulfur or peat moss. Both of these are quick, short-term fixes, however, and you'll want to be sure other nutrients, like calcium and magnesium, are at proper levels also.
Fertilizer
You likely already know that adding fertilizer to your lawn helps grass and other plants grow. You may not know, however, that fertilizer also helps to reduce weeds. With these dual benefits, you can't miss out on fertilizing this spring. It's recommended you fertilize with an organic, low nitrogen fertilizer at least twice each year, and as many as four times. The fertilizer you use will likely have instructions on how to spread it properly, but it's a good idea to aerate your lawn before doing so.
Seeding
If your lawn is in bad shape, you'll want to start by selecting a new grass type that fits Oklahoma's climate. Cool season grasses like rye or bluegrass likely aren't a good fit. Instead, opt for warm season grasses like Bermuda, or St. Augustine, which will hold up to the summer's heat and are drought tolerant. Whether you're planting the entire lawn, or just patching some bare patches, you don't need to bury the seeds. Simply press them down into the soil, which will help keep them moist until germination. Water the seeds at least twice per week, and water deeply to promote the growth of deep roots.
Mowing
The way you mow your lawn will also have a significant impact on its health and growth. It's usually a good idea to let your lawn grow a little longer than usual after seeds first begin to germinate after the winter. But, don't cut it down too far when it's finally time for the first trim of the spring. Try to only cut down about 2-inches each time you mow. This likely means you'll need to mow a couple times within a few days of each other at first. You'll be trying to reach an ideal height of 2.5″ to 3″. This will allow the soil to retain moisture better, and cut down on weeds and pests. It gets hot fast and stays hot late in Oklahoma during the summer, but try to get your mowing done in the morning, or just before sunset for best results. Finally, don't follow the same pattern each time you mow. Mixing it up helps your grass to grow upright and be stronger.
If you're ready for a new lawn to take care of this year, contact us at Perry Hood Properties. We build homes throughout Tulsa, Broken Arrow and Bixby with healthy green lawns, and lots of great features and amenities inside. Browse through our list of move-in ready homes, or contact us to get started building your own custom home.