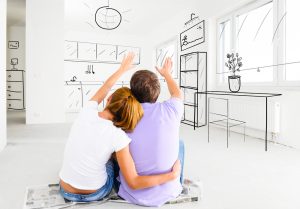 One of the first decisions house hunters normally make is whether to buy a pre-owned existing home or build a new home from scratch. According to Trulia, the majority of house hunters prefer new construction homes to pre-owned homes. This preference makes sense, because there are several key benefits to buying a new construction home.
Less Maintenance
There's no wear and tear on a new construction home, which means homeowners can spend their weekends playing with the kids instead of scraping popcorn ceiling texture. There will likely be small imperfections that come along as the home settles, but these should be covered by the builder's warranty.
Customization
One of the biggest benefits of buying a new construction home is getting to pick and choose all the options that go into a home. This includes the flooring, paint colors, cabinets, countertops, floorplan, and light fixtures. All these little details can be handpicked by the buyer to create the home they've always wanted.
More Energy Efficiency
Because new construction homes are built with the latest and greatest techniques and materials, they are much more energy efficient than existing homes. Not only is this better for the environment, it will also save homeowners lots of money down the road in utility bills.
The Best Appliances
Whether it's refrigerators or washing machines, manufacturers are always coming out with new bells and whistles for appliances. Getting a new home is a great excuse to get the hottest appliance technology and enjoy all the benefits that come with it.
If you're looking for a new construction home in Tulsa, call Perry Hood Properties. We are one of the most experienced home builders in the Tulsa area and will do whatever it takes to build your dream home.