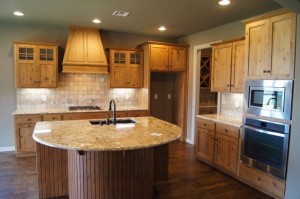 Our properties feature modern kitchens with granite countertops, Jay Rambo cabinets and stainless steel appliances. Even though the name 'stainless steel' sounds like those surfaces would be easy to clean, there are a few tricks to keeping your stainless steel appliances looking like new. At the Housekeeping blog on About.com, Sarah Aguirre put together a list of these stainless steel tips to ensure these surfaces stay free of rust and scratches.
In most situations, you'll only need some warm water and a soft cloth to clean any dust and spills from your stainless steel. There are two important tips that go along with this, however. First, you'll want to wipe with the grain of the steel. There are no dramatic consequences if you don't, but you'll notice much more residue and grime left behind. That will leave you with surfaces that aren't very shiny. Second, be sure to thoroughly dry your appliances after cleaning. Any water left will leave spots.
For tougher dirt or sticky substances, you can try warm water with just a drop of mild dish soap. Again, use a soft cloth to prevent scratching the surface and rub with the grain. When you're done, rinse with water and dry thoroughly.
If fingerprints are causing your stainless steel appliances to lose their shine, glass cleaner is usually the answer. You're usually better off spraying the cleaner on your cloth, rather than directly on the surface. This helps prevent drips that you see later. You can rub in a circular motion around the fingerprints to remove them, then rinse with water by rubbing with the grain again.
If your stainless steel surfaces have developed scratches or are in need of a polish, stainless steel cleaners and polishes are available. These help to fill scratches and chips, remove stains and polish the surface to restore shine. You'll want to start in a small, inconspicuous spot just in case the cleaner isn't right for your surface. Then, rinse and dry thoroughly.
With proper maintenance, your appliances will look like new for as long as you keep them in your home.
If you're interested in a new home, browse through our available homes or start the process of building the home of your dreams.